Recipe 33 Takes Top Trailmix Prize
The Manufacturing Month of October 2020 closed strong in Idaho with Boise Startup Week and the fun Trailmix competition among food startup companies. 
Congratulations to Daniel Smith (below) of  RECIPE 33 for taking home the Trailmix 2020 top prize of $20,000 and shelf space at Albertsons.  Jenny Bourdon of Wild Heart Sipping Vinegar captured the runner up prize of $5,000.  The annual Trailmix competition invites the region's top food product startup companies to make their pitch to food industry professionals. In addition to the prizes listed above, participants gain visibility, notoriety, and valuable industry connections.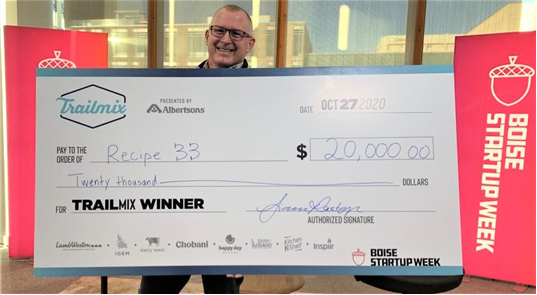 Current and future Trailmix competitors will benefit from TechHelp's Food Manufacturing workshops and webinars hosted by our experienced Food Manufacturing Team.  TechHelp is working with Trailmix to take a more active role in the 2021 competition.  TechHelp's food manufacturing team including Catherine Cantley and Janna Hamlett are available to help competitors sharpen their products, processes, safety protocols, and messaging in hopes of reaching the top spot.